Supercharge Your PPT Presentations Using Storytelling – Training Class
August 18, 2020 @ 1:30 pm - 4:00 pm EDT
$149
Webinar hosted by Richard Stone that covers the 13 secrets for making your PowerPoint presentations more impactful and engaging.
Online Event
Tue, August 18, 2020
1:30 PM – 4:00 PM EDT
The Supercharge Your PPT Presentations Webinar will be facilitated by one of TLG's top Strategic Partners and Chief Storyteller. For $149, participants will receive:
A hands-on, interactive learning experience
Richard's Guide to Building Powerful PPT Presentations
90 Days of Individualized Support via Email as You Build Out Your Presentations
Read your audience and tailor your presentation to their needs and interests
Harness the brain's natural wiring for story to maximize audience engagement
Plan your presentation using a story template
Make use of stories to illustrate key principles and talking points
Boost engagement with the right pictures and infographics
Raise engagement using data exemplars
Build impactful handouts that reinforce your message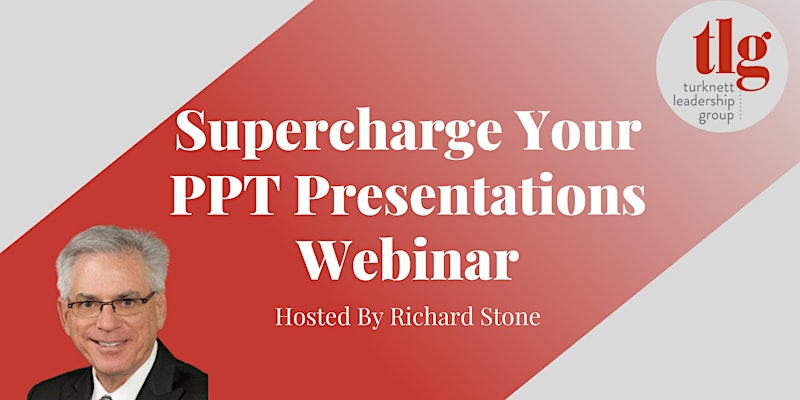 Our presenter, Richard, has worked with diverse organizations such as Walt Disney Imagineering, Walter Reed Army Medical Center, Hewlett Packard, Eastman Chemical Company, Kraft Foods and Novant Health. He also authored The Healing Art of Storytelling, Stories: The Family Legacy, The Kingdom of Now, and co-wrote The Patient Survival Handbook. He knows the true impact storytelling can have on captivating audiences.